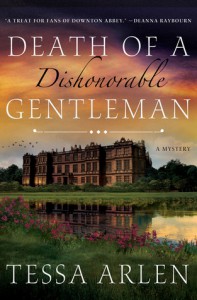 The introductory lines of Death of a Dishonorable Gentleman immediately captivated me and made me feel as though I had been transported to the Edwardian era. In a story that feels something like Downton Abbey meets dinner murder mystery, the novel follows the upstairs society and the downstairs staff as everyone wonders if a murderer is among them.

Well, they sort of wonder. The dishonorable gentleman is so little mourned, even by his family members, that I felt little inspired to care what had happened to him or why anyone had done it. A page was taken from Agatha Christie's Murder on the Orient Express in that pretty much everyone had a reason to want to get rid of the guy, and those who didn't simply weren't much concerned about it. The extended house party went on with guests playing croquet and enjoying elaborate meals between police interviews.

Though historical research was evident and some of the descriptive language was very well done, I couldn't find a character - dead or alive - that I particularly cared for. However, those who are hungry for more novels of this era will enjoy this author's efforts to bring a little bit of mystery into a bygone and exciting time.