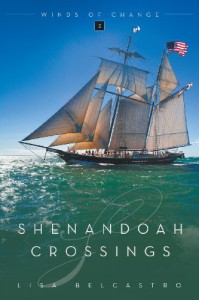 'Shenandoah Crossings' is book 2 of the Winds of Change Trilogy. Though I have not read 'Shenandoah Nights', book 1, I had no trouble following the story and characters in this installment. I was drawn to the dual time period storyline, with part of the novel taking place in 1776 and the rest in modern times.
The main character is Tess Roberts, a 25 year old who seems rather disappointed by life. She spends much more time complaining about things going not her way than counting her blessings and is disillusioned to the point that she begins to doubt the existence of God. She longs to be a crewmember on her father's ships, one of which is the fully restored, 200 year old Shenandoah.
Other important characters include her brother Andy, also referred to as Drew. He is about 30 years old and both he and Tess still live with their parents. This seemed a little odd to me, and this brother-sister pair frequently seemed to act a little more like people in their late teens or early twenties than the age I was told they were. Andy also struggles a little with his faith or at least has pushed it aside. I was never completely sure why both main characters have belief issues. They are raised by a happily married, prayerful, and believing set of parents. Andy's drifting especially seems unexplained other than he is just distracted by worldly things . . . I suppose that is frequently all it takes.
In the first book of this trilogy, it had apparently been revealed that a certain cabin onboard the Shenandoah would cause people to travel back to colonial/Revolutionary times. This is how the dual timeline takes place. It was a little more of a time travel story rather than dual line, as the story mainly stays with Tess and those she encounters in 1776. I would have enjoyed learning more about those we know are living in 1776 but are not onboard the Shenandoah.
Tess at one point states that she knows she is sounding like a petulant child, and I couldn't help but agree. I could understand her frustration with not being given a place within her father's business to some extent, but she seems to constantly treat those around her with a selfish, demanding attitude that made it difficult for me to sympathize with her. It was also difficult to understand why her love interest would be even remotely interested in her - but I suppose that is sometimes true of real life couples as well ;-)
Andy's emerging love story was more compelling and sweet as his faith is revived along with his feelings toward his special lady. Neither romance is overly innocent as they can be in Christian novels. Tess, Andy, and those they are involved with experience temptation, admit past mistakes, and talk about the need to respect each other by not going too far physically.
Good read that combines Christian values, history, and romance.
I received this book from the author, Lisa Belcastro, for review purposes. The opinions expressed are my own.